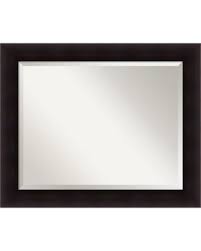 A mirror is one of the most important pieces of furniture inside your home. Yes, you can live without one, but life would be infinitely better when you have a mirror situated in strategic places inside your house. One of the best places inside the home where you can put a mirror in is the bathroom. It's virtually a necessity in every home, especially for the ladies who wouldn't be caught with a hair out place or who don't leave home without making sure that they have worn their favorite mascara.

Introducing the 1200 Krome Designer Black Glass Framed Mirror! This large mirror features a wide black glass border frame that provides a chic contrast to the mirror's gleaming and reflective surface. The edges are also beveled to give it that sophisticated design. It can be installed vertically so you can check whether your hair has been styled to perfection and your shirt has been buttoned properly. You can also install it horizontally so you can share the mirror with your partner as you prepare to face a hectic day at work.

The 1200 Krome Designer Black Glass Framed Mirror is perfect for the modern luxurious bathroom. Install it on the wall against your bathroom vanity or turn it into point of interest by hanging it on the bathroom wall by itself. This chic and zen mirror includes fittings so you can easily install it once you take it out of its protective box. Easy to clean and a joy to gaze at.