Our Guide To Tapware for Your Kitchen and Bathroom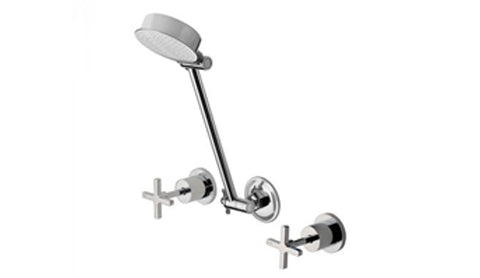 So you're constructing or remodeling your kitchen and bathroom. You've pretty much got everything figured out: from the toilet in your bathroom, to the tiles on your floor, to the finish of your counter—most of the big stuff for the space. You take another look at everything that's been done so far, and you notice one more thing you need to think about: the tap sitting above your kitchen or bathroom sink or tub.
That tap is not just a tap. For the discerning homeowner, that tap could come in lots of different styles, designs, finishes, and features, and you should get the model that serves exactly what you need.
Do you want a simple new tap that doesn't have too many bells and whistles, or something that's got a water filter built in? How much water pressure do you need? When it comes to Bathroom and Kitchen tapware, we have every option you could ever think of—and we'll help you pick out the tap you need the most for a perfect kitchen or bathroom.
What Taps Are Compatible And Functional With My Plumbing?
Before you consider what your new tap is going to look like, first you'll have to figure out whether your pre-existing plumbing will work well with what you plan to get.
This is no problem if you're building a new kitchen or bathroom from the ground up. You'll have free rein on building the plumbing, so you can use whatever tap you want. However, for a room or a house with pre-existing plumbing, you'll have to consider how your sink or bath is built—such as how many holes have been cut into the base, whether you'll need a wall-mounted tap or something that's built on the sink, and where on the surface the holes are cut.
With this information, we at Bathroom Warehouse can help you select the right kind of tap that's right for your home.
What Kind Of Tap Should I Get?
This is where the fun begins—choosing the tap you want. Bathroom Warehouse has the best selection of tapware in Perth, all suited to your demands for style, functionality, and price. You can get the best tapware for your home from under $70 to over $200, with our diverse selection of different styles of tapware in stock. 
Traditional Three-Piece Tap Sets
These taps are your common setup for hot and cold water, and are sometimes the best choice for homeowners on a tighter budget. The water will come from one nozzle, with the temperature controlled by separate hot and cold knobs flanking the tap. These tap sets are available for kitchen and bathroom sinks, as well as baths. We have different designs and styles that fit whatever look you desire, as well as wall taps that are meant to be installed on a vertical surface, that come in simple polished chrome, to matte black finishes. 
Mixer Taps
This tap design is your modern tap, with one knob that efficiently controls the temperature of the water and makes it hot or cold with a turn. These are generally more higher-end options. We have mixers available for kitchen sinks, bathroom basins, as well as showers in various styles and designs such as simple polished chrome to matte black finishes. 
How Should I Choose?
The kind of tap you should get for your kitchen or bathroom depends on a few things: your intended use, how the rest of the interior design looks, and the water pressure in your home.
Your preference will definitely come into play in choosing a particular tap model. You'll also need to make sure that your chosen tap design matches with the rest of your kitchen and/or bathroom. If you're particular about the way it looks, then you'll probably know not to choose a model that sticks out like a sore thumb.
Water pressure is also an important factor to consider. Since water pressure varies from household to household in Australia, you'll need to make sure that the tap you install can function with the water pressure in your pipes. Many taps work just fine with low or standard water pressures, but there are some taps that will require high water pressure. 
Trusting The Professionals
We at Bathroom Warehouse can surely and confidently help pick out the  tap that's perfectly suited for your home and within your budget, and will also last you years of hassle-free service.
You may choose and purchase from our stock of tapware online via this website, or in-store as well. Please feel free to come into our local depot to check out our diverse and budget-friendly tapware range should you be in the area.
We can give you a guided tour of our depot, answer any questions you may have about our tapware, and make solid recommendations about which products are best for you at our warehouse in Osborne Park. Our address is at 29 Hutton Street, Osborne Park, WA 6017. You may also contact us via telephone at 08 9244 3975 or our Contact Us page on our website.