How to Choose the Best Vanity Unit for Your New Bathroom Design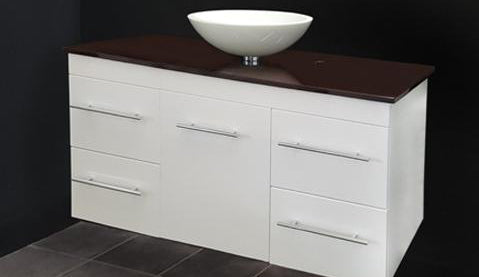 Vanity units feature a basin with storage space underneath, perfect for giving your bathroom a contemporary appearance while bolstering its practicality. However, because vanity units come in a broad range of styles and sizes, choosing the best one for your new bathroom design can be challenging to say the least. For that reason, we've put together a comprehensive guide to choosing the most suitable vanity units for your home.
At Bathroom Warehouse, we've provided homeowners, tradesmen and other commercial clients with the highest quality vanity units in the Perth area since 1996, and we've since grown to become one of WA's leading suppliers of bathroom fixture and fittings. We're more than happy to help you select the right vanity units either over the phone or in-store, but the guide below details the most important factors you need to consider.
Bear Your Storage Requirements in Mind
While it's important for your vanity unit to look ultra-stylish, it's crucial for it to cater to your practical requirements too. Before you start searching for vanity units, you might want to give your bathroom a spring clean, only keeping what you really need so that you can determine your true storage requirements. For large families, we have a wide variety of units with double basins up to 1800mm , which offer plenty of storage space for everyone in your home.
Choose the Right Size
Thanks to the broad selection of vanity units on offer, it's easy to find one to suit any sized space. We have a range of slimline vanity units available for small bathrooms as well as deluxe options for larger bathrooms. Before choosing a unit, you should measure the space in which you wish to install it. Taking accurate measurements is crucial, so if you need any help, don't hesitate to give us a call. Once you know how much space you have for you new vanity unit, we'll be able to help you narrow down your options with ease.
Pick a Suitable Colour
Some people search for vanity units that match the colour of their existing bathroom furnishings, but there's no reason why you can't choose a unit that adds new colours to the room. If you want your bathroom to have a designer appearance, then you might be interested in browsing our range of coloured vanity units. Alternatively, if you live for luxury, the our white gloss units tend to be our biggest sellers because they complement the appearance of any bathroom. Remember, if you need any help choosing a suitable colour, we're here to help.
Think about Positioning
Vanity units are purposed to make your bathroom more practical and efficient, making it crucial to find a unit that won't get in the way. You should think about whether your unit will be difficult to clean around. However, more importantly, you need to make sure your new unit won't block access to the bathroom or shower door.
If your vanity unit will replace your old bathroom sink, then you'll likely install it in the same space. However, if you intend to install a wall-mounted unit or want to reposition your vanity, you may need to re-route the pipework, which often involves removing your existing floor tiles and fitting a new ones.
If you'd like to discuss your new bathroom vanity unit installation with a qualified plumber, we'll be happy to recommend a tradesman that has earned our seal of approval. Plus, our highly experienced employees can offer advice either in-store, by email or during a phone call.
Decide on a Material
Most vanity units are made from medium density fibreboard (MDF), which are both highly durable and attractive. Typically, MDF units are finished in a white gloss while the MFC alternative comes in a broader range of colours and wood-effect finishes, including timber look. It's worth noting that while both of these materials are water-resistant, neither are completely waterproof. For that reason, it's important to wipe and clean splashes and spills, and you might want to position your unit away from showers and bathtubs.
Floor Standing or Wall Mounted?
Above, we mentioned that you might have to re-route your piping to install a wall-mounted bathroom vanity unit. While that sounds stressful, invasive and potentially expensive, it's often the perfect solution for small bathrooms and en-suites that lack the space for a floor-standing unit. Plus, in addition to using space efficiently, wall-mounted vanity units look ultra-contemporary and stylish, and they also make sweeping the floor simple.
Because floor standing bathroom vanity units tend to be easier to install, they're usually a more budget-friendly alternative to wall-mounted counterparts. You can feel confident that you'll fall in love with one of our wall-mounted or floor standing bathroom vanity units in Perth, so browse our collection today or give us a call for recommendations.
Units for Compact Bathrooms – there are also a variety of slimline units available which can make even the most compact of spaces practical, stylish and contemporary. Our wall-mounted units maximise floor space, making your bathroom appear larger. Alternatively, our corner units are the perfect option for awkwardly shaped bathrooms and cloakroom suites. If you have any particular design requirements, just let us know and we'll see what we can do.
Taps – The Final Touch
For every vanity unit available there are probably dozens of suitable taps, which can make choosing the right one for your bathroom rather challenging. Most vanity units feature a single tap hole, so you would require a mixer tap which is easy to operate and clean.
Call the Experts at Bathroom Warehouse for More Useful Advice
We believe that our success can largely be attributed to our superior customer service offering, meaning you can feel confident that our experienced professionals can help you choose the most suitable vanity unit for your new bathroom design. For over two decades, we've been supplying Perth and the surrounding areas with the highest quality bathroom fixtures available, and we won't be beaten on price. If you want to enhance your bathroom's style and practicality but aren't sure of which vanity unit to choose, then give our specialists a call on 08 9244 3975.